Integrating social media into your trade show marketing plan is an almost necessity in this digital age.
Any business not integrating social media marketing into their trade show presence could be losing business to their competitors, and social media is an essential marketing channel for both event marketers and for your company strategy.
Here we have prepared a chronological guide to trade show social media to help newbies and experts alike extract maximum value:
The Aperitif/Pre-Show Social
Follow the trade show's social media accounts, approximately 2-4 weeks' pre-show, on Facebook and Twitter. In a very "You scratch our back, we'll scratch yours", spirit, you should like and share the show's posts.
Use the official show hashtags to share news and events with attendees.
Connect with media people in your niche via Twitter or LinkedIn, and if you have LinkedIn connections, invite them to connect with you at the event, and check out your booth.
Create an event specific landing page on your website. This page will serve as the base for all things related to the upcoming show — videos you've created, articles written about your company and other special announcements. It's a place to direct potential booth visitors to get all the information they want, and you'll gain valuable website metrics and potential leads as they sign up for an event.
If you have a new product or service that you are revealing at the show, create a 30-second teaser video, which is a great way to quickly generate interest and can be shared on any social platform, with the event hashtag attached to it!
A great way to engage people prior to the show is to have special events, like contests, or a VIP party.
The Main Course
The easiest, and yet the most underused method of engagement, is pictures! Pictures of special events, guest speakers, or whatever else is taking place at the show keep your company in the social stream of consciousness. You can even ask customers to take their photo, and share a brief story, or feeling that they have.
Keep people up to date about the contest you may be holding, and keep people excited about the prize!
Remember how busy you can be at a trade show, and unless you have someone who is on social media the entire time, it could be helpful to schedule a few tweets/posts beforehand, especially if you are presenting at a given time!
Make sure to film your presentation, or anyone else's who you think is of importance/interest. You can share this on social media later for those who could not attend!
Do not overuse social media at the event! Keep people updated on things that are going on of interest, but do not post any old thing that pops into your head! You want quality over quantity when possible!
Desert!
The most obvious are do not chuck the business cards away! Store them somewhere in a database for later use! Connect with them on LinkedIn, or follow people on twitter who were of interest, and make sure to message people you met personally, and begin making genuine connections.
A great way to recap the events is to write a brief blog about it, how it went, the cool things that happened, and be sure to keep a positive twist to it!
Thank everyone who came to the show, on Facebook and Twitter!
If you had a signup sheet, be sure to follow up with an email. Include links to all of your social media outposts encouraging them to engage with you there.
Have Fun!
Whether you are having a VIP party at the end or not, get involved in the social side of the events afterwards. It rewards your more sociable and outgoing team and will add value to the experience, as well as give staff a change of scenery and a new and diverse set of challenges to meet! Some of the most crucial networking happens post tradeshow!
As the last point, remember that images, pictures and videos are more engaging that just text, and will always attract more attention and views, just like this image is now.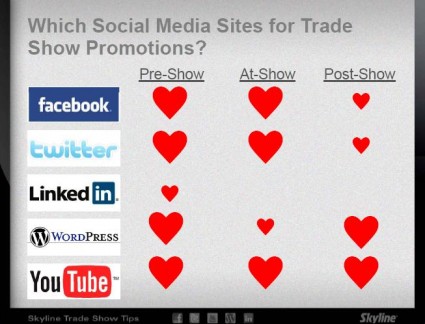 Image source: http://www.newincite.com/implement-marketing/8-social-media-marketing-ideas-for-your-trade-show-exhibit/