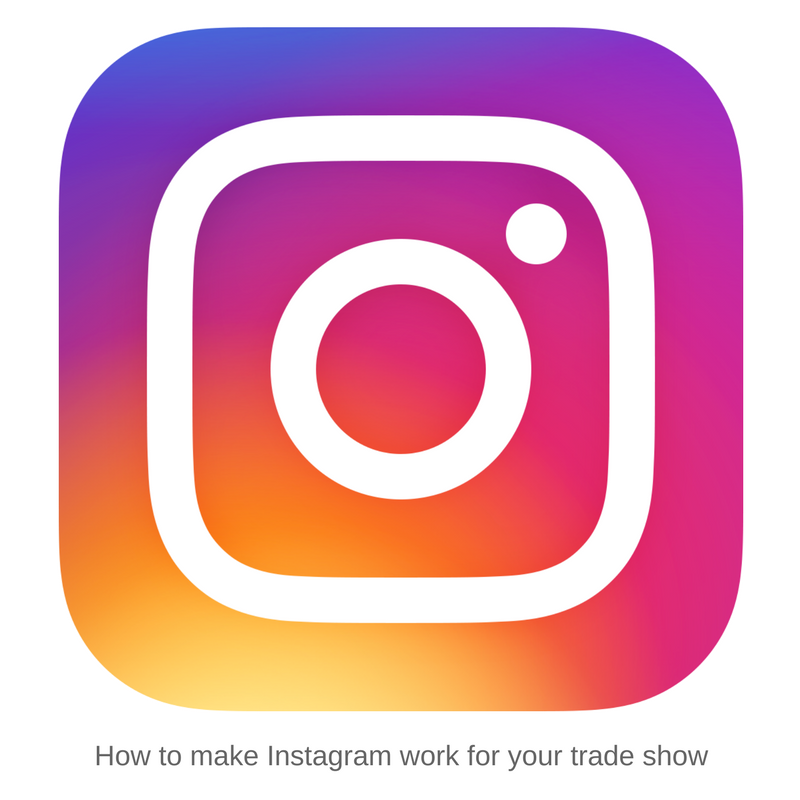 Tradeshows are visually stimulating
by nature.
When you set up your booth, you try to differentiate your business, with big signs, fancy brochures and fantastic booth set up. However, there's one inexpensive trade show tactic that you should be utilising: Instagram. It is the most visually-stimulating social media network there is.
Visual images are processed 60,000 times faster in the brain than text, and 90% of information is transmitted to the brain visually.
So here are some tips to get your tradeshow up to date and on Instagram.
Use Hashtags
As with all trade show social media, find out the event hashtag before you go. This makes your photos more easily discoverable to anybody searching for/through the event on social media, and will also help potential prospects find your booth!
For the image itself, the hashtags you use simply explain what the image is about, and who it is for. For example, if you have a new app you want to show off: #ios, #android, #tech, #apps.
Use location and geotags. These link photos to specific places, which then appear on a map, along with other photos taken with that geotag. You can even create a custom location and link it to your booth "so attendees will know exactly where to find you, for example, "Room 6".
Tell your story
This does not mean just taking a photo of your booth. It does give people a look into what your tradeshow setup looks like, but by itself, it is rather boring.
Share some photos of the people at your booth, both staff and prospects. This behind allows people to get a glimpse of who/what you really are as a company. For example, get a few shots while your team is setting up or disassembling your booth.
Link in your marketing strategy to your story
If you have a new product launch, then have an image or two featuring the product (be careful not to overdo it). You could also share booth numbers or activity.
A great marketing strategy at tradeshows is to have an Instagram contest. There are numerous different ways you can do this:
Ask participants to take a photo including your logo, or whatever the prize is that you are giving away, and ask followers to like and follow your account for a chance to win. Have attendees take the photo at your booth with your mascot or logo and award the person with the most likes on their Instagram account a prize.
Make sure to include a contest specific hashtag, so that you can easily keep track of how it's going, and make sure you're following Instagram's contest rules.
It is a great networking opportunity
Use the Explore option of Instagram to network with others, wherein you can see posts automatically selected on things like the people you follow or the posts you like. A lot of your audience is most likely already on Instagram, and you can find them, by searching for keywords that relate to your brand/product.
Record
Instagram allows you to record and post up to 15 seconds of content. Not to be overused, but if there is anything you can make 10-15 seconds out of, then do so. It gives a great respite from all of the photos that are being posted. You could record an exciting game at your booth, to create hype with your new product or you could even just record your team having a great time, adding the more human aspect to your brand.
It is also a great way to showcase what is going on for the people who aren't there. You could give a quick virtual tour of your booth!
Post-show
Make sure to keep some of those photos for repurposing on your website, to keep your engagement up after the show. You could write a blog post, use them for twitter, or even start a throwback Thursday.
In order to really evaluate your return on investment of using Instagram, you could use UTM parameters. UTM parameters are tags that you can add onto an URL to give Google Analytics more information about the link allowing you to accurately track your campaigns and credit traffic that comes directly from Instagram. Here's a complete guide on how to setup UTM parameters for your social media.
Another option is to use your bio. Instagram allows you to have one clickable link in your profile section. Whenever you have something new to promote, it's as simple as changing the link, and if you set it up, you can analyse any web traffic via this link.
Analysing site traffic and social media engagement is a key point of any social media plan. If numbers start to drop, it's a signal that you need to think about changing your content, or doing something new!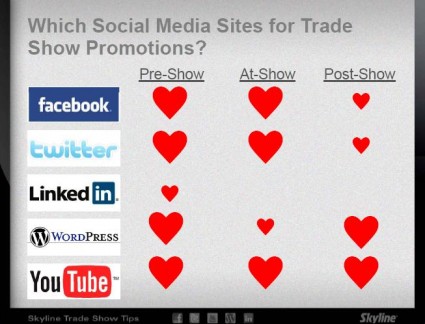 Image source: http://www.newincite.com/implement-marketing/8-social-media-marketing-ideas-for-your-trade-show-exhibit/